Please register for the
THE SARATOGA SPARKS/JEROME HOLLAND MEMORIAL THOROUGHBRED CLASSIC TOURNAMENT
JUNE 4th and 5th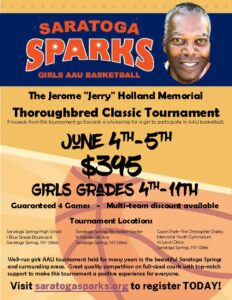 2022 Marvelous Mother's Day raffle winners!
Our 2022 Mother's Day $1000 prize winner is
Kim Taylor
Sold by E. Taylor
9th grade

Our daily $50 prize winners are:
May 1 – Jeff Bulger sold by E. Taylor – 9th grade
May 2 – Tony Mingione sold by A. Holland – 4th grade
May 3 – Tony Mingione sold by A. Holland – 4th grade
May 4 – Aimee Carper sold by I. Webster – 4th grade
May 5 – Dave Hojnicki sold by E. Hojnicki – 6th grade
May 6 – Mary Kingsley sold by C. Miller – 8th grade
May 7 – Jim Whitbeck sold by A. Webster – 7th grade
May 8 – Mother's Day – see above for our $1000 winner!
May 9 – Stephanie Anne Friedman sold by S. Webster – 10th grade
The Saratoga Sparks family sadly shares the news of the passing of Jerome "Jerry" Holland. Jerry served as the President of the Saratoga Sparks for 15 years and was a member of the Board of Directors prior to that. As a result of Jerry's passion and tireless efforts to provide a quality basketball program for girls, he implemented numerous exceptional opportunities for players to excel both on and off the court. He has touched countless number of lives through his leadership and will be terribly missed by so many families and the basketball community.We send our deepest condolences to his family and want them to know that his Saratoga Sparks family is here for them in any way they may need us. Rest in eternal peace Jerry –
For over 27 years, the Saratoga Sparks has been a non-profit, volunteer organization with the goal to inspire young athletes to be better players and better people. The Sparks teach our players the value of respect towards everyone and to act as leaders in all their actions both on and off the court.
On behalf of the Saratoga Sparks family, we are honored to continue to inspire young athletes to be the leaders of tomorrow. As we encourage our players to become shining examples of good in society, we encourage everyone to also create "sparks for change" toward a better future. A future where social injustice does not exist and equality for everyone does. To fight racism in our society, we need to have change.
#sparksforchange